Coastal karst aquifers and submarine springs: what future for their water resources?
This paper is intended to be a reminder of a series of scientific works whose origin is largely attributable to G. de Marsily, without attempting to make an exhaustive overview of submarine springs and coastal karst aquifers. The main results show that coastal karst aquifers with their submarine outlets and the possibility of natural seawater intrusion are particularly fragile and must be studied and managed with appropriate tools. For the coming decades, the evolution of the climate as results from the IPCC scenarios leads us to question the effects of the increase of sea level on this coastal resource, and the effects of frequent and severe droughts, added to an increase in withdrawals from aquifers caused by the coastalisation of the population.
Cet article a pour objectif de rappeler une série de travaux scientifiques dont l'origine est largement attribuable à G. de Marsily, sans chercher à faire un tour d'horizon exhaustif des sources sous-marines et des aquifères karstiques côtiers. Les principaux résultats montrent que les aquifères karstiques côtiers avec leurs exutoires sous-marins et la possibilité d'intrusion naturelle d'eau de mer sont particulièrement fragiles et doivent être étudiés et gérés avec des outils appropriés. Pour les décennies à venir, l'évolution du climat telle qu'elle résulte des scénarios du GIEC nous conduit à nous interroger sur les effets de l'augmentation du niveau de la mer sur cette ressource côtière, et sur les effets de sécheresses sévères et plus fréquentes et de la montée du niveau marin, ajoutés à une augmentation des prélèvements dans les aquifères causée par la littoralisation de la population.
Fichier principal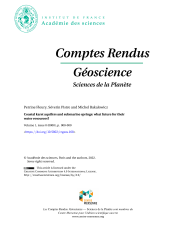 crgeos20220340.pdf (1.4 Mo)
Télécharger le fichier
Origin : Files produced by the author(s)