The Pontet medieval silver mine: a fente alpine contemporaneous with the uplift of crystalline massifs?
La mine médiévale d'argent du Pontet, une fente alpine contemporaine de la surrection des massifs cristallins ?
This study of the Pontet mine aimed at updating the understanding of ore-structural geology setting and, in terms of archaeology, at pointing out how the geometry of structures influenced the medieval workings and the shape of the galleries. The mineralisation and the WNW–ESE dextral normal faults controlling its emplacement are assigned to the Eocene by analogy with the neighbouring La Gardette structure. This confirms the Late Eocene to Oligocene age classically proposed for Phase 1 and places it in the Eocene. The Prégentil-type P1 folds described by Lameyre (1958) are here attributed to Phase 1, which raises the question as to whether the contemporaneous tectonic uplift of the crystalline basement should also be assigned to Phase 1 rather than to Phase 2
Présenté par Zdenek Johan Résumé La mine du Pontet a été étudiée dans le but d'actualiser la connaissance gîtologique et, en termes d'archéologie, de préciser l'influence de la géométrie des structures sur la conduite des travaux médiévaux et la forme des chantiers. L'étude structurale permet de replacer la minéralisation dans l'évolution tectonique. La minéralisation et les failles WNW-ESE dextre-normales contrôlant sa mise en place sont rapportées à l'Éocène par analogie avec le faisceau voisin de La Gardette. Ceci confirme l'âge Éocène supérieur à Oligocène classiquement proposé pour la phase 1 et amène à la rapporter plutôt à l'Éocène. Les plis P1 de type Prégentil, décrits par Lameyre (1958), sont attribués ici à la phase 1 ; aussi la surrection tectonique du socle cristallin, dont ils sont contemporains, est-elle à rapporter à cette phase et non à la phase 2.
Fichier principal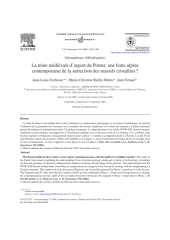 1-s2.0-S1631071304002160-main.pdf (583.42 Ko)
Télécharger le fichier
Origin : Publication funded by an institution