New insights on the Late Paleocene − Early Eocene dinoflagellate cyst zonation for the Paris and Dieppe basins
The Anglo-Belgo-Paris Basin, historical cradle of the Paleogene stratigraphy since the 19th century, is known by the presence of very specific so-called "Sparnacian" deposits (very diverse and laterally highly variable, predominantly lagoonal to terrestrial facies), which encompass the short stratigraphic interval of the Paleocene-Eocene Thermal Maximum (PETM). Due to the insufficient nature of the paleontological record, the "Sparnacian" succession of the Paris and Dieppe-Hampshire basins still needs to be robustly chronostratigraphically correlated with other Paleogene records worldwide. In order to refine the stratigraphy of the Thanetian-Lower Ypresian succession in northern France a number of cores and outcrop sections have been investigated palynologically. As a result, an updated version of the dinoflagellate cyst zonation for the Paris and Dieppe basins is proposed and contains six new or revised biozones for this stratigraphical interval: Alisocysta margarita, Apectodinium hyperacanthum, Apectodinium-acme, Biconidinium longissimum-acme, Dracodinium astra, and Axiodinium lunare/Stenodinium meckelfeldense. Based on combined bio-, litho-and chemostratigraphic data, it appears that the dinocyst assemblages, corresponding to the PETM event interval ("Sparnacian" deposits, Soissonnais and upper Mortemer formations), are characterized by an acme of Apectodinium spp. (70-98%) in both basins, sometimes alternating with an acme of a few gonyaulacoid groups in the Dieppe Basin. Dinocyst assemblages from the PETM interval contain a significant number of atypical, longer specimens of Apectodinium parvum, which could represent an ecological onshore substitute for Axiodinium augustum in the Paris and Dieppe-Hampshire basins. The establishment of a new Biconidinium longissimum-acme Zone suggests that the stratigraphic hiatus previously inferred within this sequence in the Paris Basin does not exist.
Le Bassin anglo-belgo-parisien, berceau historique de la stratigraphie du Paléogène depuis le XIX e siècle, est connu pour la présence de dépôts très spécifiques, nommés sparnaciens (faciès très divers, majoritairement continentaux et lagunaires, avec de nombreuses variations latérales), qui contiennent le court intervalle stratigraphique du Maximum Thermique de la limite Paléocène-Éocène ( Paleocene-Eocene Thermal Maximum ou PETM en anglais). En raison de l'enregistrement paléontologique insuffisant, la succession sparnacienne des bassins de Paris et de Dieppe-Hampshire nécessite toujours une corrélation robuste avec les autres enregistrements mondiaux. Afin d'affiner la stratigraphie de la succession du Thanétien-Yprésien inférieur du Nord de la France, une série de forages et d'affleurements a été étudiée sur le plan de la palynologie. Il en résulte une version mise à jour de la zonation des kystes de Dinoflagellés pour les bassins de Paris et de Dieppe, qui contient six biozones nouvelles ou révisées pour cet intervalle stratigraphique : Alisocysta margarita , Apectodinium hyperacanthum , Apectodinium -acme, Biconidinium longissimum -acme, Dracodinium astra , et Axiodinium lunare / Stenodinium meckelfeldense . Fondée sur l'intégration de données bio-, litho- et chemostratigraphiques, il y apparaît que les assemblages de dinokystes correspondant à l'intervalle du PETM (dépôts sparnaciens de la Formation du Soissonnais et du sommet de la Formation de Mortemer), sont caractérisés par un acmé d' Apectodinium spp. (70–98 %) dans les deux bassins, alternant parfois avec un acmé de quelques groupes de gonyaulacoïdes dans le bassin de Dieppe. Les assemblages de dinokystes de l'intervalle du PETM contiennent un nombre significatif de spécimens atypiques, plus longs, d' Apectodinium parvum , qui pourraient représenter un substitut écologique côtier de l'espèce Axiodinium augustum dans les bassins de Paris et de Dieppe-Hampshire. L'établissement de la nouvelle zone d'acmé à Biconidinium longissimum suggère l'absence d'un important hiatus stratigraphique auparavant interprété pour le bassin de Paris.
Fichier principal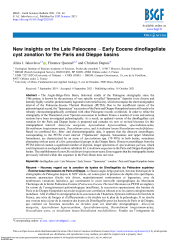 bsgf_2021_192_44_190037.pdf (4.56 Mo)
Télécharger le fichier
Origin : Publisher files allowed on an open archive