Ausgelöste Seismizität in Einem Ehemaligen Gefluteten Kohleabbaurevier (Gardanne-Gebiet, Frankreich)
Triggered Seismicity in a Flooded Former Coal Mining Basin (Gardanne Area, France)
Sismicidad Inducida en una Antigua Cuenca Minera de Carbón Inundada (zona de Gardanne, Francia)
Zusammenfassung Untersuchten wurde der Zusammenhang zwischen Seismizität und dem Grundwasserspiegel in einem aufgelassenen Kohlebergwerk (Bouches-du-Rhône, Frankreich), das 2003 geschlossen wurde und in das zur kontrollierten Flutung seit 2010 Grundwasser gepumpt wird. Die Bevölkerung spürte 2010 erstmals Mikroseismizität und im November 2012 kam es zu einem stark spürbaren seismischen Ereignis. Daher wurde der Ursprung der Seismizität hinterfragt, sowohl im Hinblick auf die mögliche Instabilität alter, oberflächennaher Stollen, die Schäden an der Oberfläche verursachen könnten, als auch im Hinblick auf eine lokale seismische Gefährdungsbeurteilung. Mittels eines temporären dichten seismischen Messnetzes in dem Gebiet konnte die räumliche Verteilung der Seismizität im Detail analysiert werden. Der größte Teil der Seismizität war eindeutig unter dem Grubengebäude zu finden, was darauf hindeutet, dass ein bestehendes Verwerfungssystem, das den Bergbau quert, in Übereinstimmung mit dem, von der Ausdehnung her, bekannten tektonisch beanspruchten System hydraulisch aktiviert wurde. Die Analyse zeigt eindeutig eine räumlich-zeitliche Beziehung zwischen seismischer Migration und dem Niveau des Grubenwasserspiegels zwischen 2013 und 2017. Demnach wird die Seismizität in Abhängigkeit von den Pumpkapazitäten und den effektiven Niederschlägen mit den Schwankungen des Grubenwasserspiegels fortbestehen. Eine kontinuierliche hydraulische und seismische Überwachung ist notwendig, um diese Phänomene besser zu verstehen und die damit verbundenen Risiken zu bewerten.
We studied the correlation between seismicity and the water table level in an abandoned coal mine (Bouches-du-Rhône, France), closed in 2003, where groundwater has been pumped out since 2010 to prevent underground flooding. Microseismicity was first felt by the population in 2010 and a strongly felt seismic swarm occurred in November 2012. The origin of the seismicity was therefore questioned, in relation to both the potential instability of old, shallow galleries that might generate damage at the surface and a local seismic hazard assessment. A temporary dense seismic network in the area allowed us to analyse the spatial distribution of the seismicity in detail. Most of the seismicity was clearly located under the mine workings, highlighting that an existing fault system crossing the mining operation was being hydraulically activated, in accordance with the known tectonic extension regime. Our analysis clearly shows a spatiotemporal relationship between seismic migration and the level of the mine aquifer between 2013 and 2017. Thus, seismicity will persist with oscillations of the mining aquifer, depending on the pumping capacities and effective rainfall. Continuous hydraulic and seismic monitoring is necessary to better understand these phenomena and assess the associated risks.
Resumen Hemos estudiado la correlación entre la sismicidad y el nivel de la capa freática en una mina de carbón abandonada (Bouches-du-Rhône, Francia) que se cerró en 2003 y de la que se han bombeado aguas subterráneas desde 2010 para controlar las inundaciones subterráneas. La población sintió por primera vez la microsismicidad en 2010 y en noviembre de 2012 se produjo un fuerte movimiento sísmico. Los posibles orígenes de la sismicidad son la eventual inestabilidad de las antiguas galerías poco profundas que podrían generar daños en la superficie y la propia peligrosidad sísmica local. Una densa red sísmica temporal en la zona nos permitió analizar en detalle la distribución espacial de la sismicidad. La mayor parte de la sismicidad se localizó claramente bajo las labores de la mina, lo que pone de manifiesto que un sistema de fallas existente que atraviesa la explotación minera estaba siendo activado hidráulicamente, de acuerdo con el régimen de extensión tectónica conocido. Nuestro análisis muestra claramente una relación espacio-temporal entre la migración sísmica y el nivel del acuífero de la mina entre 2013 y 2017. Así, la sismicidad persistirá con las oscilaciones del acuífero minero, en función de las capacidades de bombeo y de las precipitaciones efectivas. Es necesario un seguimiento hidráulico y sísmico continuo para comprender mejor estos fenómenos y evaluar los riesgos asociados.
Fichier principal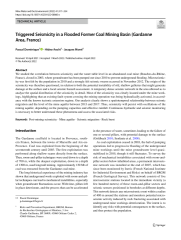 Dominique2022_Article_TriggeredSeismicityInAFloodedF.pdf (5.17 Mo)
Télécharger le fichier
Origin : Files produced by the author(s)