The Samapleu mafic-ultramafic intrusion and its Ni-Cu-PGE mineralization: an Eburnean (2.09 Ga) feeder dyke to the Yacouba layered complex (Man Archean craton, western Ivory Coast)
Les séquences mafiques-ultramafiques de Samapleu et leur minéralisation en Ni-Cu-EGP : un dyke nourricier Eburnéen (2,09 Ga) du complexe lité Yacouba (craton archéen de Man, Côte d'Ivoire.
The Yacouba layered complex intrudes the Archean (3.5–2.7 Ga) Kenema-Man craton in the Samapleu-Yorodougou area, western Ivory Coast. In Samapleu area, the complex was recognized in drill holes at three locations: Samapleu Main (SM); Samapleu Extension 1 (E1) and Yorodougou (Yo). It comprises websterites, peridotites and gabbro-norites arranged symmetrically with mafic layers at the center and ultramafic layers at both margins. The complex is inclined at 70–80° to the SE. The thickness of individual layers varies from 2 to 60 m and the total thickness is 120 to 200 m. At the E1 site, the complex extends to depths > 500 m. Contacts with the country rock gneiss are characterized by a hybrid zone that is a few meters thick and composed of plagioclase-orthopyroxene bearing metabasites, and locally (E1 site) a metamorphic assemblage of sapphirine-cordierite-sillimanite-spinel ± rutile. This assemblage is attributed to contact metamorphism during intrusion of the complex in the lower crust at a depth of about 25 km. Zircons in country rock gneisses and granulites, as well as in the hybrid facies, yield Archean ages of ~ 2.78 Ga, similar to ages reported in the Man craton. Rutiles in the hybrid zone give a U-Pb age of 2.09 Ga, which is interpreted as the age of contact metamorphism and emplacement of the intrusion. The Samapleu Main and Samapleu Extension 1 sites contain Ni and Cu sulfide deposit with reserves estimated as more than 40 million tons grading 0.25% Ni and 0.22% Cu (Sama Nickel-CI, August 2013). The Ni-Cu mineralization is composed of pentlandite, chalcopyrite, pyrrhotite and rare pyrite, which is disseminated mainly in pyroxenite or occurs as subvertical and semi-massive to massive sulfide veins. The sulfide textures range from matrix ore, net-textured, droplets or breccia textures. Zones enriched in PGM, particularly Pd, are associated with the sulfides and several chromite bands are also present. These observations suggest that an immiscible sulfide liquid formed from a parental silicate liquid and percolated through the crystal pile. The parental melt composition, determined using the Chai and Naldrett [1992] method, has a SiO2-rich mafic composition with 53% SiO2 and 10% MgO. This result, the presence of the hybrid zone, and the trace-element signature determined using the Bedard [1994] method, suggest a mantle-derived basaltic parental magma that had assimilated abundant continental crust. These observations indicate that Samapleu intrusion corresponds to a magmatic conduit of the Yacouba complex as at Jinchuan (China), Voisey's bay (Canada), Kabanga (Tanzania) or Nkomati (South Africa).
Fichier principal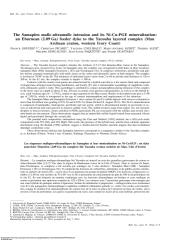 393.pdf (16.59 Mo)
Télécharger le fichier
Origin : Publisher files allowed on an open archive