Towards cavity-collapse hazard maps with Zeb-Revo handheld laser scanner point clouds
Zusammenfassung Unterirdische Hohlraume sind in vielen nordeuropaischen Stadten und landlichen Gebieten sehr verbreitet, wegen der langen, historischen Entwicklung des Bergbaus und wegen dem Abbau von Naturbausteinen. Um die Risiken von Einsturzen solcher Hohlraume einzuschatzen, bedarf es detaillierter Informationen uber die Geometrie, die Tiefe und die Charakteristik der Gesteinsmassen. Fur die Kartierung dieser unterirdischen Hohlraume werden aktuell Verfahren eingesetzt, die weder ausreichend genau und detailliert, noch kosteneffektiv sind. In diesem Umfeld wurde ein mobiler Handlaserscanner GeoSLAM Zeb-Revo getestet. Die damit erfassten Punktwolken reproduzierten die Ebenen uber die typischen Dimensionen solcher Galerien (<10m) wirklichkeitsgetreu (RMS<10mm) und es konnten keine Kippachsenfehler festgestellt werden. Handelt es sich um gut strukturierte Netzwerke von Gangen, konnte nach einer Schleife von 115m und 525 Minuten mit instrumenteller Drift eine maximale Abweichung von 3mm auf 30m (1/10000) erzielt werden und die Differenz zur Solllange war unerheblich. Fur ein gro ss eres Projekt mit 11ha eines aufgegebenen unterirdischen Steinbruchs im Pariser Becken ergab die Vermessung mit Zeb-Revo genaue (<1m) Karten, die fur behordliche Gefahrenkarten im Ma ss stab 1/5000 geeignet waren. Damit stellt die Geometrie keine Herausforderung mehr dar, um Gefahrenkarten fur diese Objekte zu erstellen.
Underground cavities are ubiquitous across northern Europe's cities and countryside due to a long history of mining and building-stone extraction. Management of cavity-collapse risks requires detailed knowledge of a cavity's geometry, depth and rock-mass characterisation. Current mapping practices are neither sufficiently accurate, detailed nor cost-effective in underground settings. Here, a GeoSLAM Zeb-Revo handheld mobile laser scanner was tested. Its point clouds reproduced planes faithfully (RMS<10mm) over typical gallery dimensions (<10m) and any survey horizontality defect was not measurable. In well-structured corridor networks, reference distance inaccuracy arising after a 115m loop and 525minutes of instrumental drift did not exceed 3mm over 30m (1:10 000) and the difference from the reference length was insignificant. Applied to mapping 11ha of a disused underground stone quarry in the Paris Basin, Zeb-Revo surveys produced accurate (<1m) base maps adequate for regulatory cavity hazard maps at 1/5000 scale. Geometric knowledge of accessible cavities is therefore no longer a challenge for collapse hazard mapping.
Las cavidades subterraneas son abundantes en el subsuelo urbano y rural del norte de Europa debido a su larga historia minera y al crecimiento urbano. La gestion del riesgo de colapso de una cavidad requiere un conocimiento tan preciso como sea posible de la geometria, la profundidad y la caracterizacion de la masa de rocas. Las tecnicas usuales de medida no son lo suficientemente precisas, detalladas ni rentables en entornos subterraneos. En este estudio, se prueba un escaner laser de mano, GeoSLAM Zeb-Revo. Sus nubes de puntos reproducen los planos con un error menor de 10mm (RMS) en dimensiones tipicas de galerias (<10m). Los errores en medidas horizontales no son apreciables. En las redes de medida bien estructuradas en galerias, el error de la distancia de referencia no supero los 3mm sobre 30m (1/10000) despues de un bucle de 115m y 5,25minutos de deriva instrumental. Y la diferencia con respecto a la longitud de referencia fue insignificante. Aplicado a la cartografia de 11ha de una cantera de piedra subterranea en desuso en la Cuenca de Paris, las medidas de Zeb-Revo produjeron mapas de base precisos (<1m) adecuados para mapas de riesgos de colapso de cavidades a escala 1/5000. El conocimiento geometrico de las cavidades accesibles, por lo tanto, ya no es un desafio para la generacion de mapas de riesgo de colapso.
Les cavites souterraines sont legions dans le sous-sol urbain et rural d'Europe du nord du fait de sa longue histoire miniere et sa croissance urbaine. La gestion du risque d'effondrement de cavites demande une connaissance aussi exacte que possible de la localisation des cavites, de leurs dimensions et d'eventuels facteurs aggravants. Les techniques de cartographies actuelles ne sont soit pas assez exactes, ou detaillees soit encore pas economiquement viables. Dans cette etude un scanner laser portable a la main, GeoSLAM Zeb-Revo, est teste. Les nuages de points reproduisent les plans avec une erreur de moins de 10mm (EMQ) pour des portees typiques de galeries souterraines (<10m). Les leves ne souffrent pas, de maniere mesurable, de deviations de la verticale. Un test de distance, pour des conditions de derive instrumentales de 5,25minutes au bout d'un parcours de 115m, reproduit une base de 30m avec une erreur, non significative, de 3mm (1/10000). Applique a 11hade carriere souterraine de pierre de construction dans le Bassin Parisien (Nord de la France), le leve Zeb-Revo, compose de 25 boucles co-registrees entre elles, a une exactitude meilleure que 1m. Ce niveau d'exactitude est compatible avec l'etablissement de carte d'alea d'effondrement au 1/5000. Dorenavant, les incertitudes des cartes d'alea d'effondrement ne sont plus tributaires que de l'incertitude de la qualite de la roche, la technologie laser portable supprime l'incertitude geometrique qui persistait a ce jour.
Fichier principal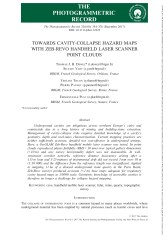 Towards cavity‐collapse.pdf (1.81 Mo)
Télécharger le fichier
Origin : Publication funded by an institution