Effets topographiques bidimensionnels en sismologie : vérification des coefficients simplifiés Eurocode 8 par une méthode en éléments-finis spectraux
The irregularity of the topography has an influence on earthquake ground motion. These effects are commonly called "topographic effects" and can amplify or de-amplify the bedrock ground motion. So far, these effects are included in the Eurocode 8 in a simplified way. The objective of this study is to check the validity of these simplifications using two-dimensional spectral finite element simulations (code EFISPEC http://efispec.free.fr). Following the analysis of the 500 simulations performed, it is shown that some EC8 coefficients are adjustable to better take into account these effects.
L'irrégularité de la topographique a une influence sur le mouvement sismique. Ces effets sont communément appelés « effets topographiques » et peuvent amplifier ou dé-amplifier le mouvement sismique enregistré au rocher. De nos jours, la prise en compte de ces effets topographiques dans les Eurocodes 8 est simplifiée. L'objectif de cette étude est de vérifier la validité de ces simplifications via des simulations en deux dimensions par une méthode en éléments-finis spectraux (code EFISPEC, http://efispec.free.fr). Après analyse des 500 simulations réalisées, il s'avère que certains coefficients sont ajustables pour une meilleure prise en compte de ces effets.
Fichier principal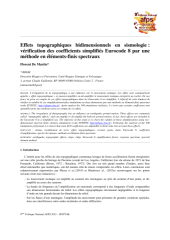 AFPS_2015_demartin.pdf (1.1 Mo)
Télécharger le fichier
Origin : Files produced by the author(s)