Does Science Improve The General Public Information? The Example of Preparedness Actions For The Seismic Risk in Martinique (FWI).
La Science Améliore t'elle L'Information du Grand Public ? L'exemple de la préparation au risque sismique en Martinique (Antilles Françaises).
Martinique is a French Overseas island of the Lesser Antilles archipelago; it straddles the subduction of the North American plate beneath the Caribbean plate. This geodynamic position implies a high seismic hazard, and several strong intensity events have hit the island in the past until the recent 2007 earthquake (Mw = 7.4 and EMS98 int.VI–VII).Since 2006, Martinican stakeholders involved in seismic safety formed the "Réplik" ("Aftershock" in French) working group; it includes state and regional councils representatives, mayors, architects, geoscientists, civil defense and consultants specialized in media, communication and social psychology. This poster presents a mid-term appraisal of the seismic awareness campaigns organized by the Réplik group from 2006 to 2011, and how it has modified, or not, the public education and preparedness to a high magnitude earthquake.Despite efforts from the Réplik team to improve its efficiency through surveys, a growing gap is noted between the reported awareness and the actual preparedness of the public. As observed elsewhere, gender, age, educational level, then boredom and saturation contribute to this discrepancy; strong cultural items probably also influence the perception of actions. To remain efficient, to respond to security standards and to public's expectations, Réplik actions must evolve: consideration of religion and local beliefs, comprehensive messages on TV and radio featuring families, use of Creole language, participatory experiences and drills, with only a little bit of science. So that, the Réplik campaign can hope to increase the Martinique public's efficiency and involvement into the preparedness process.
Fichier principal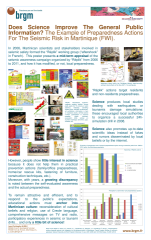 Paper_33072_handout_2409_0.pdf (1.79 Mo)
Télécharger le fichier
Origin : Files produced by the author(s)