The GeDSeT project: constitution of a decision support tool (DST) for the management and material recovery of waterways sediments in Belgium and Northern France
The European InterReg IV GeDSeT project (2008-2011) is a contribution to a sustainable management of waterways sediments, in order to develop good practice in a perspective of water resource protection and of the development of regional fluvial transport. Waterways sediments are a major environmental issue in the Walloon region of Belgium - Northern France trans-boundary region for several reasons, all of them resulting from the dense habitat, industrial pattern and waterways network, and of a long industrial history. Sediments affect water resources quality, through pollution, and availability, through flooding. Sediment dredging allows the development of environmentally-friendly regional fluvial transport, but also generates important waste deposits. Therefore material recovery for reuse in buildings or infrastructure is a key issue, as it allows a reduction of waste and limits the need for natural resources for the same use. In order to address waterways sediments management in a global way, the GeDSeT project intends to capitalise know-how regarding the criteria to take into account for a sustainable management, and to include them in a decision support methodology applicable to the transboundary context. Such decision support aims at developing good practice in a perspective of water resource management and development of regional fluvial transport. Relevant criteria include: - criteria evaluating the physical and chemical characteristics of the sediments to be dredged, and their level of contamination, - costs of dredging operations and benefits with respect to improved waterways, - potential material value and costs of sediment treatment for material recovery versus costs of sediment deposit management. The decision support methodology will rely in part on previous BRGM and European experience in the development of an environmentally extended, physical, quasi-dynamic input-output model for waste management. Experience from other specific DSTs on sediments will be valorised with the project partners. Potential recovery of secondary resources from dredged sediment will be addressed through a review and economic evaluation of available technologies, technical and economical constraints, side effects on the uses of recovered products, and a global balance of the environmental costs and benefits. Social and employment impacts, as well as land use issues in this densely populated area will be fully acknowledged as primary decision-support criteria. The expected benefit of the project comprises also the transboundary comparison of specific situations and methods, issued from a different history.
Le projet InterReg IV GeDSeT (2008-2011) est une contribution à une gestion globale durable des sédiments des voies d'eau, au développement du transport régional fluvial et de bonnes pratiques pour la protection des ressources en eau et de l'espace urbain. Les sédiments des voies d'eau sont un enjeu majeur en Europe, et particulièrement dans la région transfrontalière Belgique Wallonie – Nord de la France pour plusieurs raisons, toutes liées à la densité de l'habitat, du tissu industriel passé et présent, et du réseau de voies d'eau. Non seulement les sédiments affectent la navigabilité, mais aussi la qualité des ressources en eau, par la pollution, et la gestion des inondations. Le curage régulier des sédiments permet le développement d'un transport régional fluvial éco-favorable, mais génère d'importants volumes de déchets potentiels. La réutilisation des sédiments pour la construction ou les infrastructures est donc un enjeu clé, en combinant réduction des déchets et des besoins en ressources naturelles pour le même usage. Afin de prendre en compte la problématique des sédiments fluviaux dans sa globalité, le projet GeDSeT va capitaliser l'état de l'art sur les critères pertinents pour une gestion durable, et les incorporer dans une méthodologie d'aide à la décision applicable au contexte transfrontalier. Cette méthodologie vise à développer des bonnes pratiques en harmonie avec la gestion des ressources en eau, et le développement du transport fluvial régional.
Fichier principal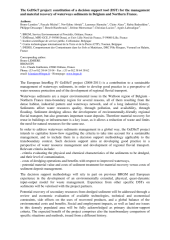 GeDSeT_WASCON2009_paper2.pdf (172.67 Ko)
Télécharger le fichier
Origin : Files produced by the author(s)